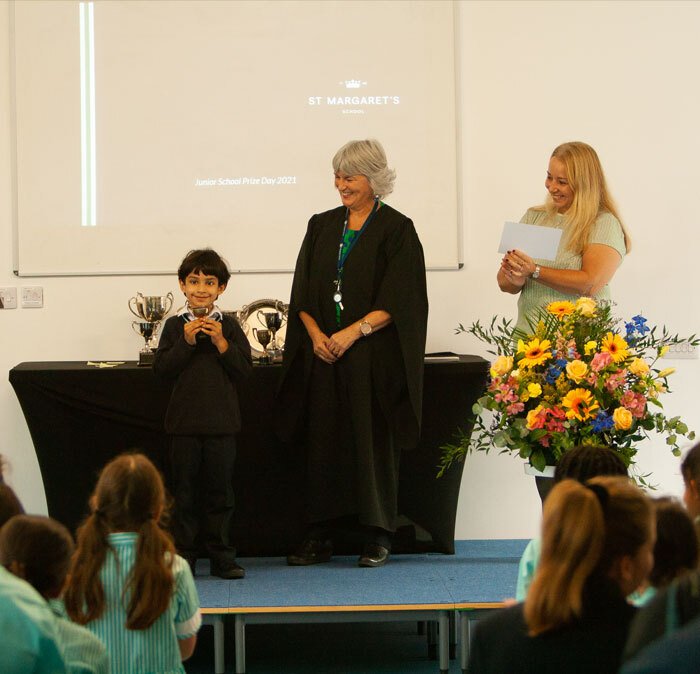 St Margaret's School Prize Giving 2021
13th September 2021
Last week we spent two days celebrating our pupils and their achievements when we welcomed families into School for Junior and Senior Prize Giving ceremonies.
 And we are delighted to be able to share here the programme welcome from each ceremony along with some highlights from both days.
Senior School Prize Giving
Last year I wrote of courage and creativity in the face of a difficult period and this last year seems to have been no easier. Yet our community is strong and confident. Pupil activities may have been impacted by the pandemic but engagement and achievement are alive and well. The pandemic has demanded creativity which continues to thrive here.
I am delighted that Prize Giving has found a new and permanent home in September, as it allows us to acknowledge our public and internal examination performances and achievements, as well as ongoing accomplishments throughout the year. Whilst we haven't been able to do the full Prize Giving experience, restrictions have eased and we are pleased to be able to offer seats to prizewinner's parents as well as pupils. I know they will be very proud to be here, this achievement, your child's achievement is why we are here. Well done parents!
Well done too to our progress, endeavour and perseverance prize winners. These are more impressive this year given the difficulties we have faced. The achievements of our international students always impress, but the last year has involved a cruel version of covid hokey-cokey for some, in school, on remote, not able to get home or not able to get back. I want to congratulate them all for sticking with it, everything you bring, and in particular your hard work and determination, make us who we are collectively.
Well done to the Head and Deputy Heads of School for your engagement and direction, for reaching across the school at a difficult but important time. Today Claire Harvey MBE, former Paralympian and champion of inclusion is living proof that creativity and positivity thrives in a diverse community like ours.
I am immensely proud of the achievements celebrated here, but very conscious that there are many more not recorded in one event. So, I hope the whole school can enjoy today and the celebrations that are taking place around the school. Well done!
Lara Péchard
Head
Junior School Prize Giving 
Welcome to the Junior School Prize day, a celebration of the academic year 2020 - 2021. Since March 2020, the sense of time for many has certainly changed and the rhythm of an academic year challenged. Therefore, it is important that today we stop and make time to celebrate the achievements of not only our prize winners, but of all the children at St Margaret's who thrived in the Autumn term. Zoomed, Loomed and Google-Classroom'd through much of the Spring term, then returned with enthusiasm and energy that was a joy to witness.
We are delighted to welcome Rachel Smith, Atlantic rower and Dragon Boat racing World Champion to speak at our event this afternoon. Rachel represented Great Britain at 10 World and European Dragon Boat Racing Championships and won 25 World and European medals. Rachel made the news when she rowed across the Atlantic in 76 days, picking up two Guinness World Records and raising over £65,000 for charity.
Over the last year there has been much to celebrate - from the academic work you can see if you visit any classroom or if you watched any of the amazing virtual lessons being delivered.
Today I look forward to pausing and looking back with you, as well as being inspired by the talent and energy the children have for a bright future.
Emma Gray
Head of Junior School
Related Stories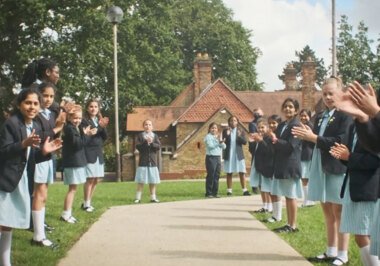 Onwards & Upwards...
29th August 2021
Finishing Year 6 marks the end of one chapter and the beginning of another. As we start to look forward to the first day of a new academic year, we remember our Year 6 pupils and the last days of term that were filled with events that celebrated their time at St Margaret's Junior School.
Read Now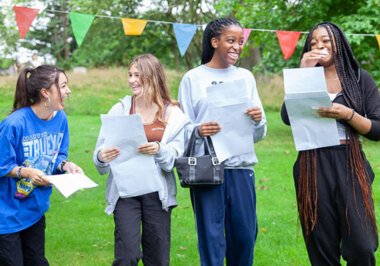 GCSE Results Day 2021
14th August 2021
It was a pleasure to welcome Year 11 pupils back into School onThursday to collect GCSE results. Coping with the pressure of performing in a sustained way to evidence their abilities, we have been delighted with the way that they have dealt with changing expectations during the pandemic and triumphed.
Read Now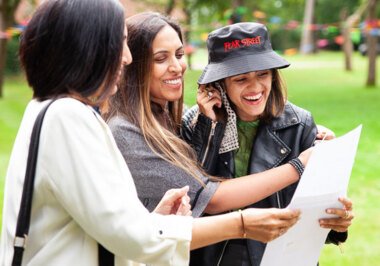 A-Level Results Day 2021
11th August 2021
We are celebrating with our Year 13 pupils as they move on from life at School and embark on new pathways at some of the top universities in the country.
Read Now